Juvenile Law Section Seminar
Date:
Tuesday, May 11, 2021
REGISTRATION IS CLOSED FOR THIS EVENT
For additional questions, please contact:
Cyndi Gore, cyndi@defendingkids.com
REGISTRATION CLOSES THURSDAY, MAY 6 (5:00 P.M.)
CCBA Spring
Juvenile Law Conference
Via Zoom
Tuesday, May 11, 2021
8:45am – 4:30pm
6 hours CLE
Cost:
CCBA Juvenile Law Section Members: $20
Attorney Non-Section Members: $40
Non-Attorney: $20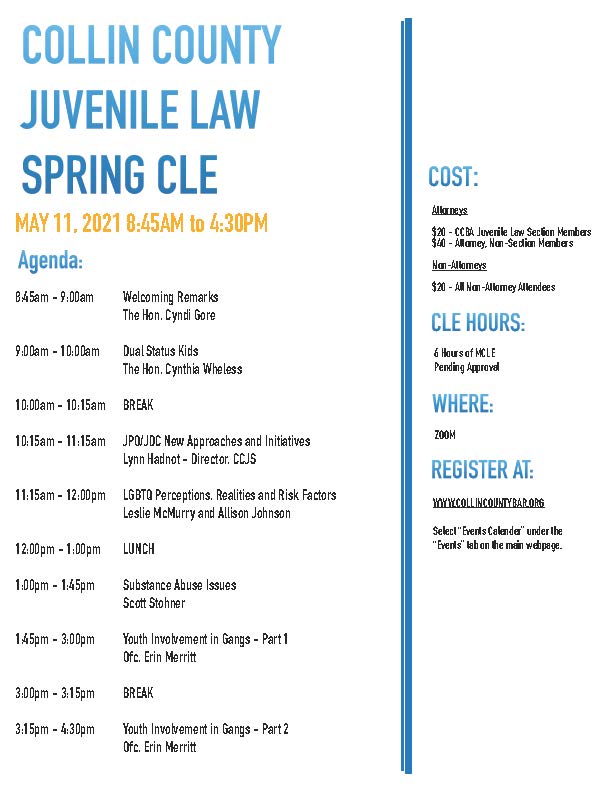 NOTE: If you are a CCBA member and not a Juvenile Law Section Member, you may pay $20 to join the Section. The registration will be a 2-part process if you choose to join the Section. You pay for the section dues first and then you pay for the registration. PLEASE NOTE: Section dues are effective through June 30, 2021 (end of bar year).
REGISTRATION IS CLOSED
Zoom link will be distributed after registration closes
For additional questions, please contact:
Cyndi Gore, cyndi@defendingkids.com